Connecting the GPS to PC
First verify which interface has your GPS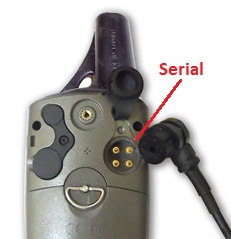 If you are using a GPS with USB port
The newer GPS models use the USB inteface instead of serial interface. To use it, just connect a cable directly from GPS to USB computer port to do the connection. If GPS TrackMaker doesn't automatically recognize the Garmin models, certainly the USB drivers of the GPS were not installed.
In this case, download the Garmin USB drivers from the web site below :
https://www8.garmin.com/support/download_details.jsp?id=591
Only after installing the drivers, the GPS will be recognized.
If the GPS has serial port
Currently the modern computers have no serial ports for direct connection.The best way to solve this problem is to acquire a USB-To-Serial converter that has an electronic circuit able to turn the USB ports on serial ports.
Before connecting the cable to computer, you must install the drivers. If you lost the installation CD, download the drivers:
USB to Serial Converter Prolific 2303
In GPS Trackmaker, activate the auto detection for serial ports according the side window. Click on
Tools - Options
and activate the auto detection button.
Once the drivers are installed, a virtual serial port will be created for each USB port.
USB-to-Serial cable not detected
As described previously, you must install the drives before connecting the cable. If GPS TrackMaker is not able to detect the new virtual serial port, certainly the cable drivers were not installed correctly.

To solve this problem, just reinstall the drivers and plug the cable into another USB port. Microsoft Windows will detect it automatically.
Error 8020
If GPS TrackMaker presents the error 8020, the USB-to-Serial cable drivers are outdated and must be replaced.
- Connect the cable to the computer
- Click on Start - Control Panel in Microsoft Windows
- Open Device Manager
- Click on Prolific USB-to-Serial Comm Port
- Press Delete to erase the device from the computer
- Choose the option Delete the device driver
- Wait for the complete uninstallation
- Disconnect the cable from USB port
- Restart the computer
- Reinstall the cable drivers
- Connect the cable into another USB port
- Microsoft Windows will detect the cable automatically